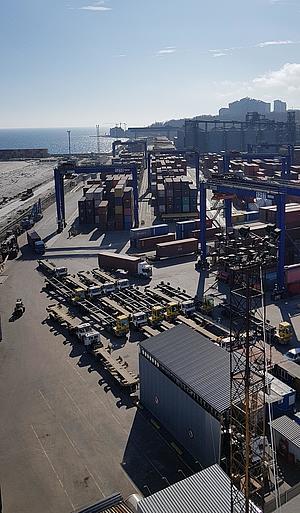 A magnificent stairway provides an unobstructed view of the port, which lies close to the old town and spreads along the seafront with its quayside facilities, cranes, silos and railway tracks. Sergei Eisenstein shot some of the scenes for his world-famous film The Battleship Potemkin here in 1925. The stairway is a symbol of the City of Odessa on the Black Sea.
The port is situated directly in front of this tourist attraction, and all visitors are checked at the entrance without exception. Philip Sweens, the Managing Director of HHLA International, is familiar with this, as he is regularly in Odessa. This is an important part of the Hamburg port company's international business. HHLA operates the biggest terminal in the Ukrainian city. Sweens shows his port ID to the guard at the gate, and the driver then takes him out to the facilities, past dense construction sites. The city is the port, and the port is the city – just like in Hamburg. "Odessa is Ukraine's most important port – in general, and in particular for container handling. However, it is completely surrounded by the city," says Sweens. "We have to work and plan around this restriction."
The most efficient port
The city is now home to the country's most efficient port which isn't blocked by its larger neighbour Russia. Talking to those in charge at the port, it is clear how important it is economically and strategically – as well as for investors such as HHLA. Odessa is located approximately 300 kilometres northwest of Crimea and has increased significantly in importance for Ukraine since Russia annexed the peninsula in 2014. Although the war in eastern Ukraine is considered to be "on ice", the fronts between Ukrainian troops and separatists are largely entrenched. However, the situation can quickly escalate again.
At the end of November, a Russian marine ship rammed a Ukrainian marine ship in the Kerch Strait between Russia and Crimea. Russian specialist units seized three Ukrainian ships and arrested 24 sailors, who have been held in Russian custody since then. Since occupying Crimea, Russia has controlled the Ports of Sevastopol and Yalta. In addition to that, Russia can prevent access to other Ukrainian ports located behind Crimea in the Sea of Azov, such as the important industrial Port of Mariupol. "The situation in the Sea of Azov isn't so critical for loading cereals, but it is for other commodities like steel," says Anastas Kokkin, head of the HHLA terminal, whom Sweens meets at the administration building. Kokkin points to stacks of steel sheeting rolls in an adjacent port facility: "A lot of steel exports which used to be shipped through Mariupol now go through Odessa."