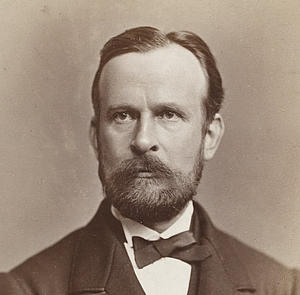 Since antiquity, these roads had served as the main routes for merchants, scholars and generals between East Asia, various Arab kingdoms and Europe. While China supplied the Roman empire with sought-after silk, the Europeans provided precious stones and silver. From the Mediterranean, the traders travelled across the Iranian highlands, around the Taklamakan Desert and through the Gansu Corridor to China.
Before Richthofen was able to study the ancient trade route, he had to complete several detours first. Scientific discovery of the world was a cause close to the heart of this young explorer who in 1860, at the age of just 28, set off on his legendary East Asia expedition.
The Middle Kingdom was a clearly delineated terra incognita. What lay beyond the band of coastal cities remained a matter of speculation. Foreigners were prohibited from journeying into the interior. The journals of missionaries and diplomatic envoys offered fragmentary ideas of Chinese life. Richthofen started out on his China expeditions with the help of maps produced by Jesuits in the 17th century. China had only opened up in the mid-19th century as a result of the Opium Wars (1839–1842). The Prussian baron was one of the first Europeans to benefit from this opening.
Between 1868 and 1872, Richthofen undertook seven voyages which took him to fifteen out of the Middle Kingdom's eighteen provinces. Upon his return to Germany, the baron was the most widely travelled European since Marco Polo. Around his throat there was "always a good long pencil, attached to a thread", in order to document the country and its people.
"Of all the great rivers of the world, despite its favourable climatic position, the Yellow River has the prerogative of being virtually unusable as a shipping channel. If the water were to rise significantly, at least at the right time of year steam navigation might be possible, since this overcomes the difficulties associated with a strong current which make travel on normal boats near impossible; but it looks as though the water rises only slightly, at least at the place where I crossed the river [...] a rise of 1.5 m would mean perhaps 10 or 15 times the volume of water."*
"Every day he set off at sunrise or even before, rested at midday and marched until dusk – over a period of months. The explorer's main task, writing his diary [...] only began upon reaching his accommodation and often continued until midnight. In Richthofen's opinion, anything which was not recorded on the same day had been lost," his pupil Hedin reported. Richthofen's notebooks provided a detailed description of Chinese landscapes and even included travel notes such as recipes. It was thanks to these that, when he married in 1879, he was a better cook than his wife, according to contemporary accounts.