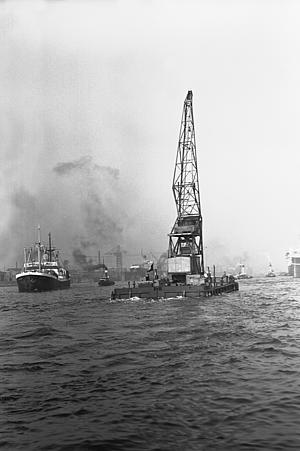 Until into the 1980s, HHLA's fleet of floating cranes also included two 30-ton cranes, HHLA I and HHLA II. These two cranes were constructed in 1928 by two Hamburg-based global enterprises that no longer exist: Deutsche Werft and the crane manufacturer Kampnagel. HHLA I was endowed to the historical harbour at Övelgönne in Hamburg in 1986, where it can still be visited today. Before being decommissioned, it racked up more than 100,000 working hours as the oldest active crane in the Port of Hamburg at that time. Until recently, there was little more to see than the shrouded silhouette of the crane as painstaking restoration work was under way.
At the turn of the year 2011, HHLA III was covered up for a number of months. The crane's jib, which was taller than much of the equipment used in the port, had been dismantled, and the rest of the crane was sandblasted and repainted. New parts, the heaviest of which weighed 65 tons, were shipped in from Poland. The new strut and tie members, jib head and swing arm were unloaded with the aid of HHLA IV. This heavy-duty puzzle then had to be put back together on dry land with the help of mobile cranes, including all of its pulleys, bearings, climbing systems and steel cables, each of which is four centimetres thick and 500 metres long.
Old lady fulfills high safety requirements
In February 2012, this 71-year-old grande dame then lifted a load of 110 tons – that's 10 tons more than the usual maximum load – without any difficulty, as observed by examiners from Germanischer Lloyd and from the employers' liability insurance association. The crane still complies with all the applicable safety requirements, with Germanischer Lloyd having monitored every step of the repair process and examined all of its weld joints and wiring.
The HHLA IV floating crane was operating for almost 60 years with its two MAN engines, for which there are no longer any more spare parts. They have been replaced using a complex process with new high-performance engines from the Anglo Belgian Corporation (ABC).