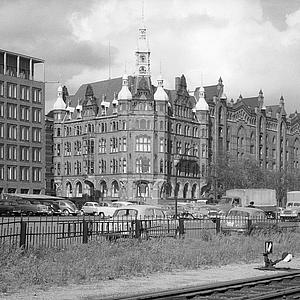 Hanßen & Meerwein had already built the playfully designed head office and was one of the architects behind the "real" Hamburg town hall. No wonder that the building supported by 463 wooden posts was soon referred to as the "Speicherstadt town hall". Of course the name plays on the importance of HFLG in the Speicherstadt historical warehouse district, but also the architecture adopts the German town hall style prevalent at that time. The clock tower is also clear evidence of this intention, which dominates the tightly packed warehouse blocks like the belfry of a medieval town hall.
When St. Annen 1 was inaugurated on 1 June 1904, customers had reason to be happy. A magnificent building had been erected for 600,000 Reichsmark (around 45 Mark per cubic meter of enclosed space). In the style of eclecticism (historicism that makes use of elements from different eras), Roman archways were combined with renaissance windows and baroque adornments. The gable in a heavily decorated style carries the HFLG coat of arms, the coat of arms of the Speicherstadt historical warehouse district, so to speak.
The interior was designed largely in the art nouveau style. Tiles, doors and wooden panels highlight the curved forms of the style that was fashionable at that time. No expense was spared when it came to the building material, with fine bricks from Saxony, grey Oberkirchen sandstone and copper for the steeple tops and black slate on the inside with embedded fossils.